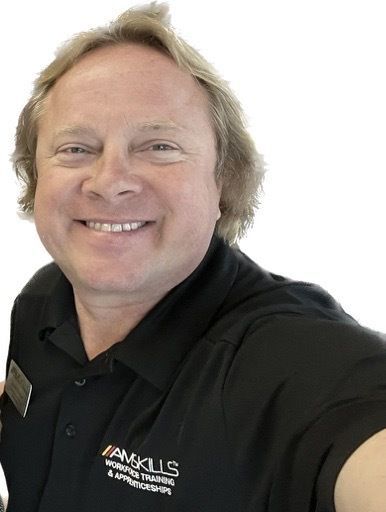 "Find a job you enjoy doing and you will never have to work a day in your life." That quote by Mark Twain, speaking to the joy with which we do our work, nicely suits AmSkills' Community Outreach Coordinator, Sean Maurice Rouillier. His enthusiasm and energy are contagious, but when you work for a successful, mission driven organization like AmSkills, how can you not be excited?
"I started with AmSkills in February of 2022, and I love it," said Sean. "It's incredibly rewarding to know that I am promoting something that offers a true solution to major challenges being faced by so many in our communities."
Born in Providence, Rhode Island but raised just north of the Tampa Bay area in Homosassa Springs, Sean worked his way through high school shucking oysters and bussing tables in Crystal River restaurants. Following his graduation from Lecanto High, he worked as a photo and blueprint developer in Tampa, then waited tables at an upscale Italian restaurant on St. Pete Beach.
But at the age of 21, it was time to get serious. Sean joined the Air Force, a decision that over the next 26 years would take him to Air Force Bases both stateside and abroad, including Charleston AFB, SC; Kadena Air Base, Okinawa, Japan; Eglin AFB, FL; Yokota Air Base, Tokyo, Japan; Langley AFB, VA and Osan AFB, South Korea.
While serving our country he earned an AA in Aviation Technology and a Bachelor of Science in Occupational Safety and Health, putting that knowledge to work in the positions of Aircraft Maintenance Crew Chief and Occupational Safety and Health Inspector General, before retiring at the rank of Senior Master Sergeant in 2017.
A single dad, he settled in New Port Richey with his two sons and "Archer," a German Shepherd he adopted from a shelter in Korea. His boys are "chips off the old block" in terms of their interest in engineering: Blake (20) is attending USF for a Hardware Engineering degree, and Miles (18) attends UC Berkeley on a Naval ROTC scholarship for Electrical Engineering.
With a heart for the homeless and continued desire to serve others, Sean went to work for St. Vincent de Paul in New Port Richey as a Homeless Veteran Housing Consultant, then as a substitute teacher and golf coach at J.W. Mitchell High School, and finally as a Homeless Veteran Employment Case Manager with Boley Centers, a Pasco nonprofit.
"While working at Boley I met Jim Shedden who was hoping we could partner with AmSkills," said Sean. "The more Jim told me about AmSkills, the more I became fascinated by their mission to get people interested, trained, and employed in the fast-growing field of manufacturing. What I saw in AmSkills was a solution to the employment problem for the economically disadvantaged: Without proper training, job opportunities for veterans and others were limited. But with opportunities like the Career Discovery Bootcamp, including guaranteed job interviews and support from manufacturers, a person could learn skills that were in demand and earn a decent wage to support themselves and their families."
That conversation was a turning point for Sean and motivates him daily as he takes the brightly branded AmSkills trailer to city halls, flea markets, job fairs and other venues, connecting with organizations and individuals to promote the valuable training and manufacturing partnerships that AmSkills has to offer. That free training, Sean notes, is valued at more than $3,500 while the job interviews provide streamlined access to potential employers versus what, for some, can be a confusing and cumbersome online job application process.
"AmSkills is so welcomed by these organizations, and even the news media has taken notice," said Sean. "I've brought several vets to AmSkills, and it's rewarding to see them now succeeding in their careers and, as a result, in their lives." Click HERE for a recent story on Fox 13 Tampa Bay News.
So how does Sean spend his time when he's not towing the trailer he calls "his baby" throughout the Tampa Bay area promoting AmSkills? "Hanging with my boys and my dog, boating, going to concerts and the beach, and (wait for it…) singing in a heavy metal band," said Sean. "We had several paying gigs when I was overseas, and even an offer to take our show on the road, but we thought better of it."