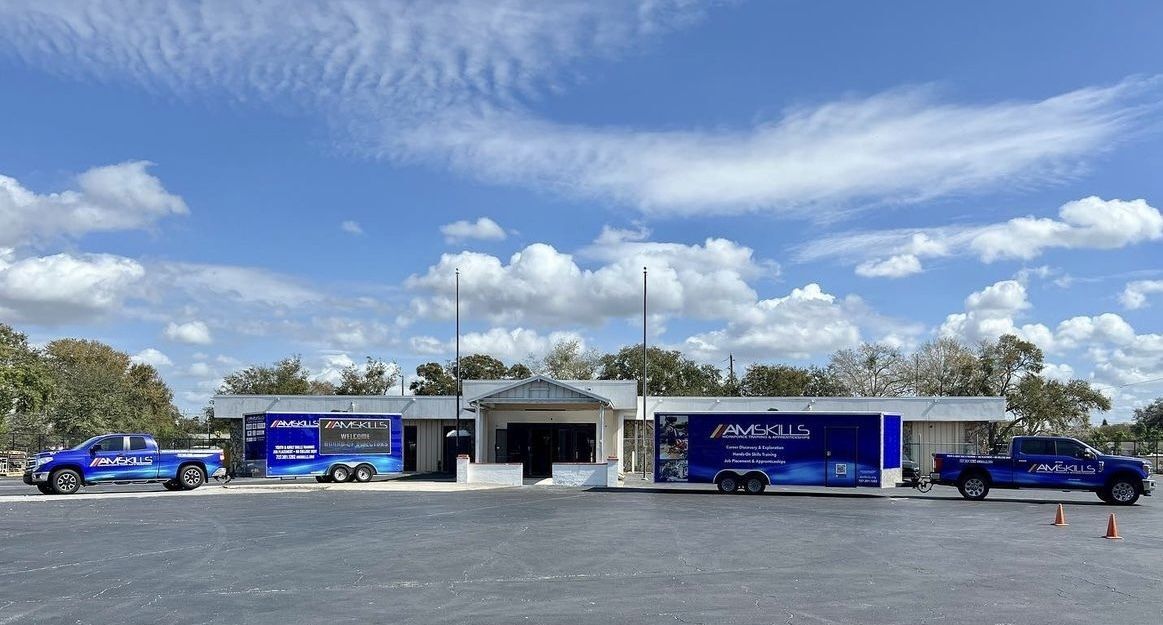 Step over Amazon…AmSkills is making deliveries to your door. Actually, it's more like manufacturing company doors, but it's kind of the same thing.
Today's manufacturer is struggling to not only find skilled people to fill empty positions, but they are also struggling to keep current employees in house who can move up as they learn more skills.
AmSkills can help. While the Career Discovery Bootcamps are helping train motivated candidates for entry-level jobs, our nationally-recognized Micro-credentials program through SACA (Smart Automation Certification Alliance) is "upskilling" existing employees looking to move up at their current employers.
And to make things even easier on manufacturers, AmSkills will take its mobile training unit to the company and set up training on site. It doesn't get much easier than that!
Jeff Cole is the main instructor for the SACA micro-credentials program. If we wanted to brag, we would mention that Jeff is the only individual in the state of Florida with 13 gold SACA credentials…but we aren't like that.
SACA (Smart Automation Certification Alliance) are nationally recognized Micro-credentials. SACA's mission is to develop and deploy modular industry 4.0 certifications that fit a wide range of individual needs, industries & educational environments.
AmSkills is the only Gold Standard SACA Training Center in Florida, offering a wide range of advanced manufacturing certifications including;
Electrical Systems 1
Electrical Motor Control Systems 1
Variable Frequency Drive 1
Motor Control Troubleshooting 1
Sensor Logic Systems 1
Electrical Systems Installation 1
Programmable Controller Systems 1
Programmable Controller Troubleshooting 1
Pneumatic Systems 1
Mechanical Power Systems 1
These micro-credentials stack into an industrial certification that demonstrates one's skills and knowledge to current and future employers across multiple industrial disciplines.
Currently, Jeff is conducting on-site SACA training at Bausch & Lomb and Delta Hydronics, as well as a class at the AmSkills Satellite Campus at the Lealman Exchange in Pinellas County. Employees attend one in-person class a week, and the remaining training each week is completed online. Classes range from 40-60 hours, depending on the course, and last for 10 weeks.
In a recent survey conducted by the Manufacturing Institute, nearly half of respondents identified training and career opportunities as reasons for staying with their current employer. Two-thirds of those under age 25 said these were motivating factors in their decision to remain with their current employer. AmSkills is ready to bring that training to your door…just like that other company that starts with an A!