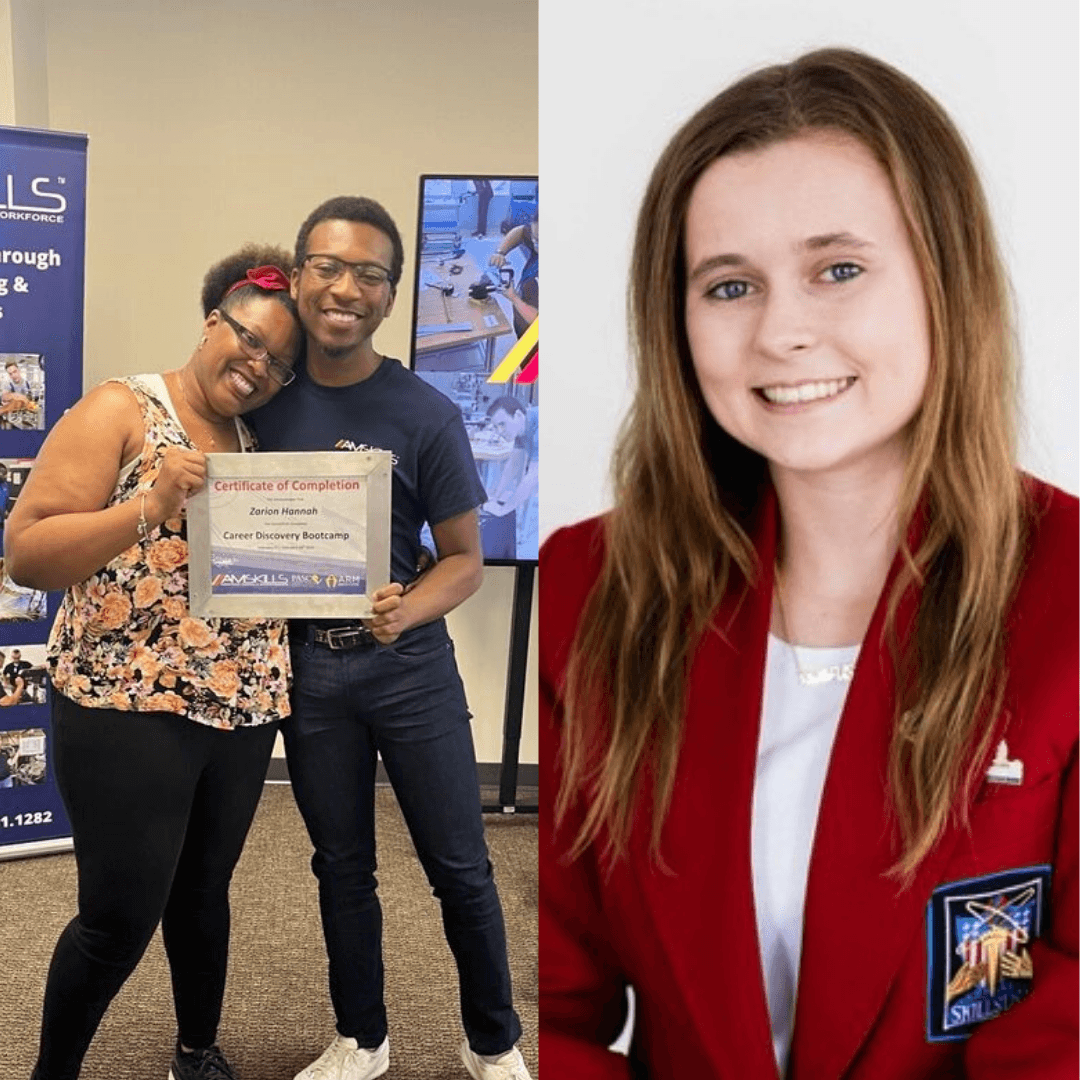 The success of an organization can look many different ways. It can be based on financial measures like sales or contracts earned, or it can be based on accomplishment, such as milestones achieved or products completed.
At AmSkills, our success is measured by people…by the graduates of our program that go on to have successful careers in the manufacturing industry.
For the past 3 years our focus has mainly been on implementing our mobile Career Discovery Bootcamps. These free, two-week bootcamps consist of multiple hands-on projects, blueprint and measurement reading, intro to soldering, attending tours of local manufacturers and obtaining an OSHA Safety Certificate. During the program, participants also receive guidance in preparation for a job interview. All participants who successfully complete the bootcamp receive a Certificate of Completion and are guaranteed several job interviews on the last day with hiring manufacturers.
One goal of the AmSkills Career Discovery Bootcamp is to create a pipeline of vetted candidates for manufacturers to hire and more than 150 people have participated in the program.   The other goal is to transform lives.  One of those graduates has an amazing story, but to tell it correctly, we must go back several years.
Nikki is a single mother of three who found herself homeless and unemployed after escaping an abusive marriage. Almost four years ago, while living at Metropolitan Ministries, Nikki discovered AmSkills and enrolled in the original AmSkills Pre-Apprenticeship program, a three-month training program. After graduation, Nikki was offered a contract position at TRU-Simulation + Training, which eventually turned into a full-time position. Nikki now lives in her own apartment, raising her children and enjoying a career in manufacturing.
One of her children is a young man named Zarion. Zarion chose to follow in his mother's amazing footsteps and recently participated in an AmSkills Career Discovery Bootcamp. After graduation, Zarion was offered a full-time position as an Assembly Technician with Dais Corporation in Odessa. Zarion is our first official "legacy" graduate and we couldn't' be prouder.
But not everyone who participates in AmSkills does so through the Career Discovery Bootcamp. AmSkills believes that career discovery should start early, which is why we are developing the AmSkills Advanced Manufacturing Academy for high schools. Northeast High School in Pinellas County was home to our first high school program, and it is also where Caroline was introduced to AmSkills through her teacher Chris Halter (AmSkills Operations Director). The program introduces high school students to today's advanced manufacturing careers through a combination of career exploration, creative learning and skill development. Caroline discovered her love of aerospace during her time at Northeast and AmSkills. And as she approaches graduation, Caroline sought our help in guiding her on her next steps.  Caroline knows she wanted to become an engineer and work in the aviation industry, but wasn't sure how.  With help from Chris and Jim Shedden (AmSkills Apprenticeship Program Manager), she recently began working at Aerosonic, a Clearwater company that manufactures aviation components for aircraft cockpits. Caroline plans on staying at Aerosonic during her time at the University of South Florida, where she will study aerospace engineering. Oh, and did we mention she is her class' valedictorian? AmSkills is thrilled to be a part of Caroline's amazing journey.
AmSkills' mission is to transform lives and strengthen communities through workforce training and apprenticeships for youth, adults, veterans and the economically disadvantaged. We are accomplishing this first through our Career Discovery Bootcamps, the AmSkills Advanced Manufacturing Academy, and through several other ongoing specialty training programs offered to individuals already working in the manufacturing field. Our success is based on people like Zarion and Caroline, and the hundreds of other individuals who have passed through our programs. Thank you for allowing us to share their stories with you today.