Sam Gates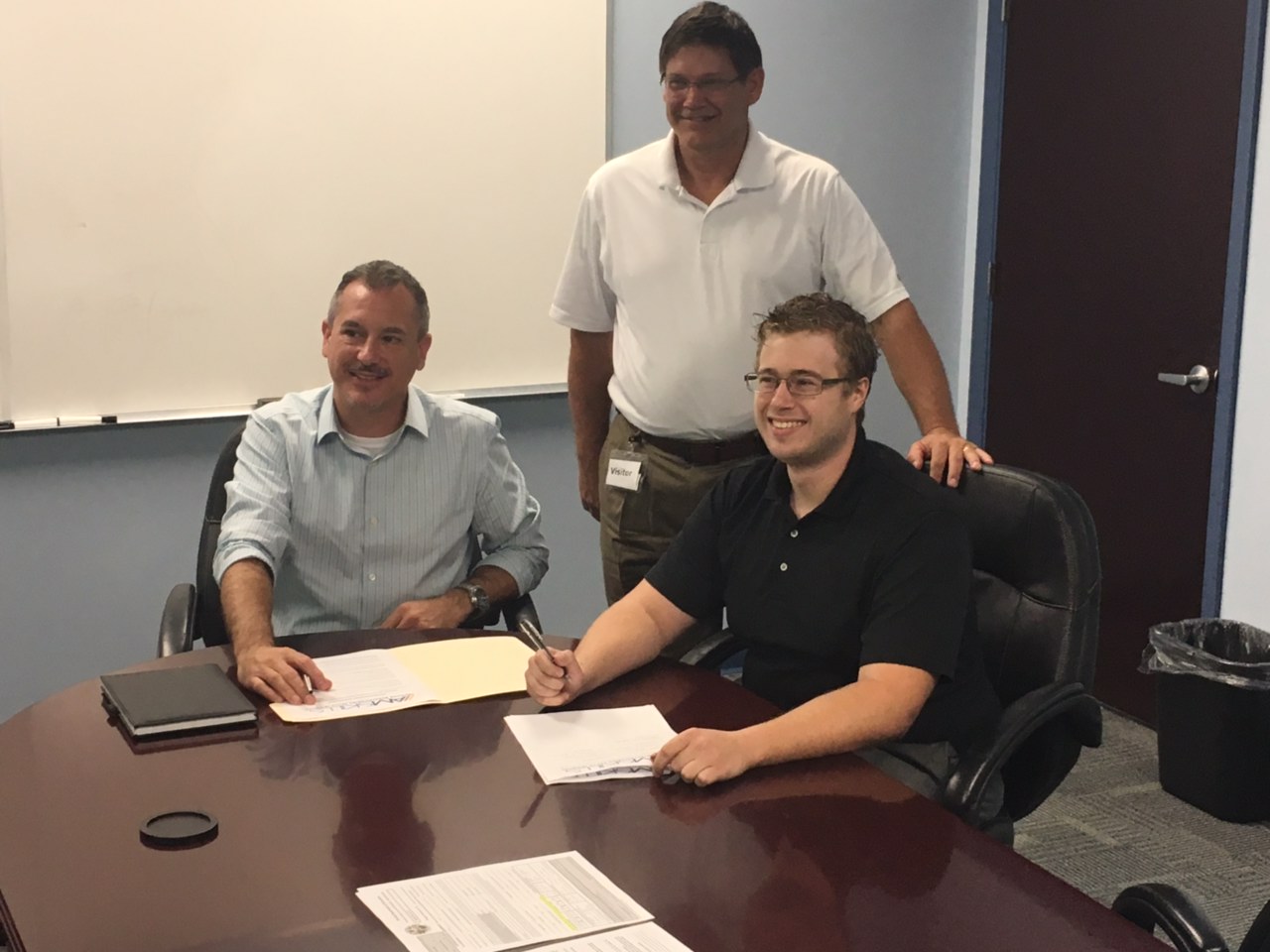 Hello, my name is Samuel Gates and I am 27 years old. 
Near the end 2016, I became unemployed after my contractual employment ended with a mortgage company.  I'm the type of person who does not like sitting in a cubicle all day and have always enjoyed being able to work with my hands and being on my feet.  I was an apprentice auto mechanic when I was younger and have always been good at fixing, repairing, and making things work.  I was at a crossroads in my life and I had the option of getting another job in the mortgage industry or trying to find a new path.  
I decided to look for a new path, but not being a certified mechanic or having any certified skills to offer employers, I was having a hard time finding a job that would lead me towards that new direction.  One day, my mother told me about a new program she had heard about named AmSkills.  This program offered to teach knowledge and skills relating to CNC machining, industrial mechanics, and mechatronics.  I was very interested as these were exactly the types of knowledge and skills I wanted to learn.  I applied to AmSkills and was accepted into the program…
From day one I was hooked. The program is set up so that the vast majority of the time in class is spent learning "hands on" skills.  I learned about many different applications used every day in the manufacturing industry and how to use many of the tools and machines one would find there.  My classmates and I learned how to use a wide array of hand tools, manual mills, manual lathes, drill presses and more.  We also learned about electronics, pneumatics, hydraulics, CNC mills, CNC lathes, 3D printers and much more.  
The administrators and instructors at AmSkills are dedicated to not only my education and skills, but are also committed to finding me employment with a company that matches my strongest aptitudes. They spend time to determine my abilities, personality, and goals and then do their best to find a position with a company that is best suited to me. Nothing is perfect, and I had multiple interviews with different companies such as Qorvo, Surge Suppression, and Manzi Metals before finding me a position with Leader Tech.
AmSkills was so devoted to me and my future that I was allowed to come to class two to three hours early to train with school machines, equipment, and to learn. Most of the time my instructor met me at school early to give me guidance and train me on manual and CNC machines. Additionally, my machinist instructor, Brian Davis, let me spend time at his machine shop, D-Tech Customs, giving me additional training on his own CNC mill, lathe, and other metal fabrication machines, while operating his personal business. I have been given so much support and opportunity to excel in my new position at Leader Tech and as a machinist going forward in this career path. I am very excited to become an experienced and skilled machinist, as I continue my apprenticeship with AmSkills and Leader Tech. I feel my future looks better and brighter more than I have in my entire life.
I learned a lot, loved being there, had fun and was excited to go back every day.  Having spent much of my youth searching for the right job fit, not knowing what I wanted to do for a career, starting and stopping college a few times, I wish this program had been around when I was younger.  I would highly recommend this program to anyone who is mechanically inclined, likes to build/repair things, likes to work with his/her hands, is looking for a career change or has even the slightest interest in the program, to apply and find out if AmSkills could lead him/her to a bright future.
Upon completion of the AmSkills Adult Pre-Apprenticeship Program, AmSkills secured a job for me at Leadertech, Inc. where I have become a Tool & Die Maker Apprentice effective June, 2018.  I am looking forward to starting my career with this great company and learning how to become a Tool & Die Maker as an AmSkills Apprentice.