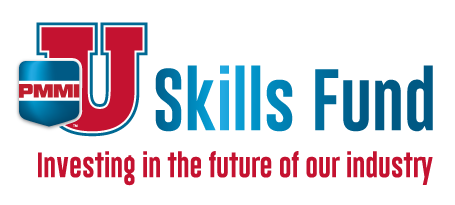 PMMI U Skills Fund (Available for PMMI Members Only)
The PMMI U Skills Fund - For Your Future Workforce was established to help PMMI member companies work with and support education programs in their area. PMMI members can use the PMMI U Skills Fund to request a funds match to support local education programs to help them recruit new talent and promote the packaging and processing industries.
To complete this application, you will need the following:
Your company information
Program information including school/program name location and main point of contact
Donation information including information on equipment or monetary donations
Total amount of funds requested
The application process is easy and can be completed at your convenience. Once you begin the application you will have 1 week to complete it. Your application will be saved automatically as long as you return to the application on the same internet browser on the same computer to finish.  All applications are subject to review for completeness, accuracy and conformity.
Application submissions are not a guarantee that PMMI will match funds.  PMMI and its associated foundation reserve the right to refuse any application for any reason.
Per IRS regulations, funds must go directly to the school program or event you are supporting.
Eligibility:
Must be a PMMI member company in good standing (cannot be a subsidiary of a member company).
Must agree to provide a case study/summary of the partnership to PMMI at the end of each year that funds were received from both the member and educational institution.
Members remain eligible year after year for funding for the same program, provided money is available. Availability of funds to be determined by the number of new requests received.
Application Details:
An application is not a guarantee of receiving funds.
Only complete application requests that meet the eligibility requirements will be considered.
Application must include the number of students impacted.
Once completed, the online application will allow updates to provide supporting documents. 
You will receive a confirmation email once your application is received. 
Company can request funds multiple times supporting multiple initiatives but cannot exceed $50,000 per year in matching funds from PMMI.
If the number of qualified applicants exceeds the funds available for that year, we will notify you and will offer to process your request the following calendar year.
Application Components:
Requesting company information
Information including school or program name location and main point of contact.
Donation information, including information on equipment or monetary donations.
Total amount of funds requested, including a receipt or letter of intent
Letter from the recipient outlining the purpose of the donations and expected use
If equipment donation: manufacturer information, photos or engineering drawings
Additional Information:
PMMI reserves the right to adjust the awarded amount based on the number of requests and budget constraints.
Equipment donations require committee evaluation and approval (happens 4 times a year)
PMMI Contact
Kate Fiorianti
Phone: 571-266-4406
Website: https://www.pmmi.org/workforce-development/skills-fund/future-workforce