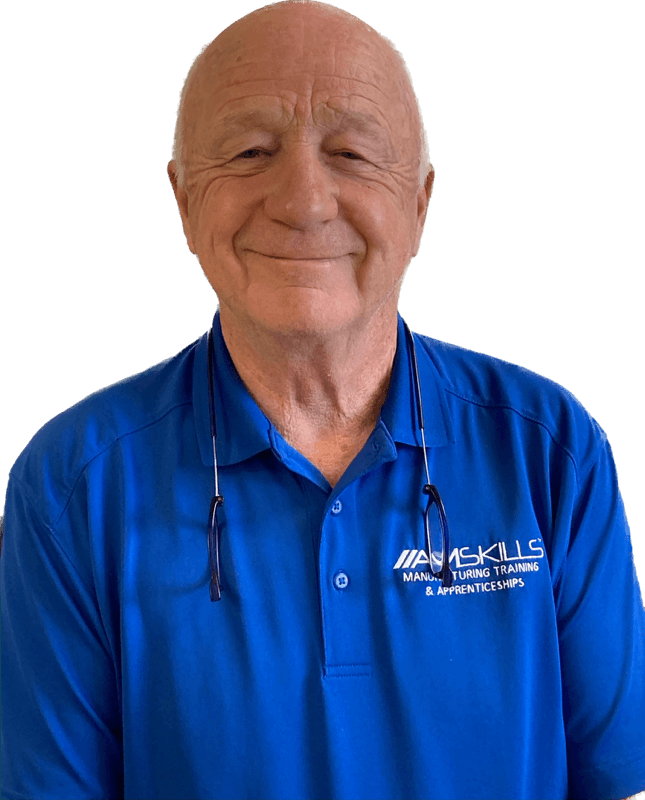 Question: What do Scotland, the United States, Venezuela, and Canada have in common?
Answer: Jim Shedden, AmSkills' Apprenticeship Program Manager
Jim wears a lot of hats at AmSkills, but his primary focus is managing the Apprenticeship Program. This includes developing and maintaining relationships with the now almost 60 Tampa Bay manufacturers who are active partners and supporters of AmSkills' programs. Jim's  lifetime of experience has definitely prepared him for this important role.
While born in Glasgow, you won't detect a Scottish brogue when talking with Jim, who at the age of five entered the United States in a most patriotic fashion – aboard a ship sailing into New York Harbor past the Statue of Liberty.  
His family settled in a blue-collar New Jersey town. While most everyone was a carpenter, Jim's dad pushed him into technology, sharing these ten words that still motivate him to this day: To be a great country, you need to build things.
After tech school he landed a job with New Jersey's Public Service Electric & Gas, now one of the 10 largest electric companies in the US. So, when you start talking boilers and turbines, you are talking Jim's language. "These are big, powerful motors in the 25,000 to 50,000 horsepower range," said Jim.
During the energy crisis of the 1970's, Jim's employer was called into action to address an emerging concern that the US might run out of natural gas. Amid petroleum shortages and skyrocketing prices, his assignment was to build a plant that would produce synthetic natural gas. They brought in experts from around the globe and the process was well underway…until it was determined that natural gas was more plentiful than scientists first thought. While the project was scrapped, it was not without its benefits. "It gave me the opportunity to work with people of different cultures and gain experience with different systems and highlighted the importance of technology to the oil and refining business."
Enter the love of Jim's life: Judy, a Canadian girl whom he met in New Jersey while she was traveling the US. They moved to Texas where they married, and this year they celebrated their 45th wedding anniversary – blessed with three kids, five grandkids and another on the way.
Back to business, Jim set out to visit an acquaintance whom he remembered saying, "Look me up if you are ever in Houston and I'll put you to work!" Turns out the man who said it was truly a man of his word. In fact, his name was Billy Word. "That type of integrity means a lot, in business and in life," said Jim. Billy's only available job at the time was well south of the border, in Venezuela, but Jim was grateful for the opportunity.   
Hitachi was the primary contractor, and gas turbines the focus of Jim's attention. But with the birth of their son and the rise of communist activity, clearly Venezuela wasn't the best place to raise a family. This time their destination was north of the border: Judy's hometown of Calgary, Alberta. A dozen years in the oil and gas industry there, and it was back home to New Jersey for an equally long commitment with a manufacturing company.  
While he never thought he'd leave his nice quiet little street in New Jersey – "Jersey gets a bad rap – it's a beautiful state," said Jim – family and friends started relocating to Florida and Jim followed suit, moving to New Port Richey in 2004. Then began a hectic pace of worldwide business travel, taking Jim to Europe, the Middle East and Asia. A customer in Australia looking to do business in the US asked him to help establish a footprint here, an exciting challenge that effectively leveraged Jim's knowledge and experience.
Hoping to slow down and stay closer to home, Jim answered a call from the well-known staffing agency, Kelly Services, requesting his help to develop the engineering part of their business. "It was a once-in-a-lifetime experience that involved a lot of networking, and that's where I first learned about this promising new start-up called AmSkills," said Jim.
Like some other team members, Jim's involvement started as a volunteer. "I would come and speak to kids' parents in the evening, promoting the benefits of manufacturing as a legitimate, respected, and well-paying career," said Jim. That volunteer service led to a 3-month contract, then a full-time position overseeing AmSkills' apprenticeship programs.
Jim's passion for his role at AmSkills should come as no surprise. "Like my dad said, 'To be a great country, you need to build things,' and the life-changing skills taught by AmSkills are building a better future for our students and our nation."