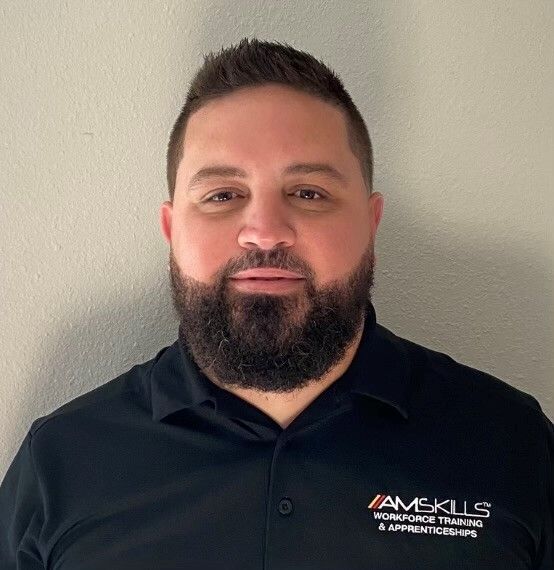 As Machining Master Instructor for AmSkills, Julio Olivencia is directly responsible for content development and is the lead instructor for all classes related to machining. Credentialed in more than a dozen manufacturing and technical skills, he is also competent and called upon to teach most classes offered by AmSkills, and is now pursuing credentials and certifications from the Smart Automation Certification Alliance (SACA). "I wouldn't want to teach a class without personally having the experience, knowledge and credentials," said Julio.
But it wasn't all the technical skills that got Julio hooked on joining the AmSkills team in December of 2019. Like several of his fellow employees, it was the shared vision at both a personal and professional level. "When Tom Mudano (CEO) outlined his vision of helping the community, I was all in!" Julio credits his wife of now 12 years with finding and sharing the part-time job listing. And while hired as a part-time employee, Julio quickly found himself working full-time, and hasn't stopped since.
Born in Puerto Rico, Julio moved to Germany at the age of four where his father was a Sergeant in the US Army. He moved back to Puerto Rico when he was eight years old, but it would be another 12 years before he came to the States, taking a job at a car wash in Florida and then working as a contractor for the Busch Gardens theme park. A bit discouraged with making minimum wage, a friend in New England mentioned an opportunity that would become Julio's introduction to the world of manufacturing.
He rented an apartment sight-unseen in Waterbury, CT and went to work for The Timken Company, making steering column shafts for the automotive industry. Eager to acquire and expand his knowledge, Julio's inquisitive nature always resulted in specific questions to help him understand the final product being produced. His supervisors acknowledged his work ethic and soon he found himself promoted, working more closely with the engineers who provided valuable on-the-job training while he attended college. "Engineering wasn't something I was looking to do, and while I didn't know it at the time, that first opportunity was the beginning of what would become an exciting career."
At the same time, he began to focus on giving back, serving as a youth Pastor for five years and advancing his education by attending the local community college. "Growing up in a family with five kids, we were taught that in life nothing was given to you, you need to earn it. I am grateful for my parents teaching me these values," Julio said.
While relocating to Western Massachusetts, Julio met his soul mate Carmen, got married and later had two beautiful children. Julio's career path then took him to several industries including aerospace and defense, nuclear power plants, geothermal power stations, and commercial industry. One of his greatest achievements was working for Millennium Power Services in Westfield, MA where he was given the opportunity to excel in his engineering path while working as their main engineer. His roles included implementing processes, designing control valves, centrifugal pump, and positive pump for companies such as GE Electric, Westinghouse Electric, Duke Energy, TECO Energy, Covanta, and other power providers on the east coast. 
With more than 22 years of manufacturing experience under his belt, Julio came back to Florida in 2018. He worked as a Process Engineer in Tampa, then along with his wife opened a tool distribution business. With Julio joining AmSkills, Carmen started managing JCO Products while working her part-time job. "Then during Covid, my wife decided to add a branch to our business – supporting female entrepreneurs – and went full-time with her vision by taking full ownership of JCO Products," said Julio. "With my full-time commitment to AmSkills, we were both now following our path in helping the community."
That brings us back to the shared vision, and what motivates Julio when he stands up in front of a classroom full of students. "Helping people change their lives for the better is rewarding for me," Julio said. "I often cross paths with AmSkills graduates out in the community, and they are so grateful. Seeing a positive change from the beginning to the end, that's a rewarding picture of how AmSkills has helped."