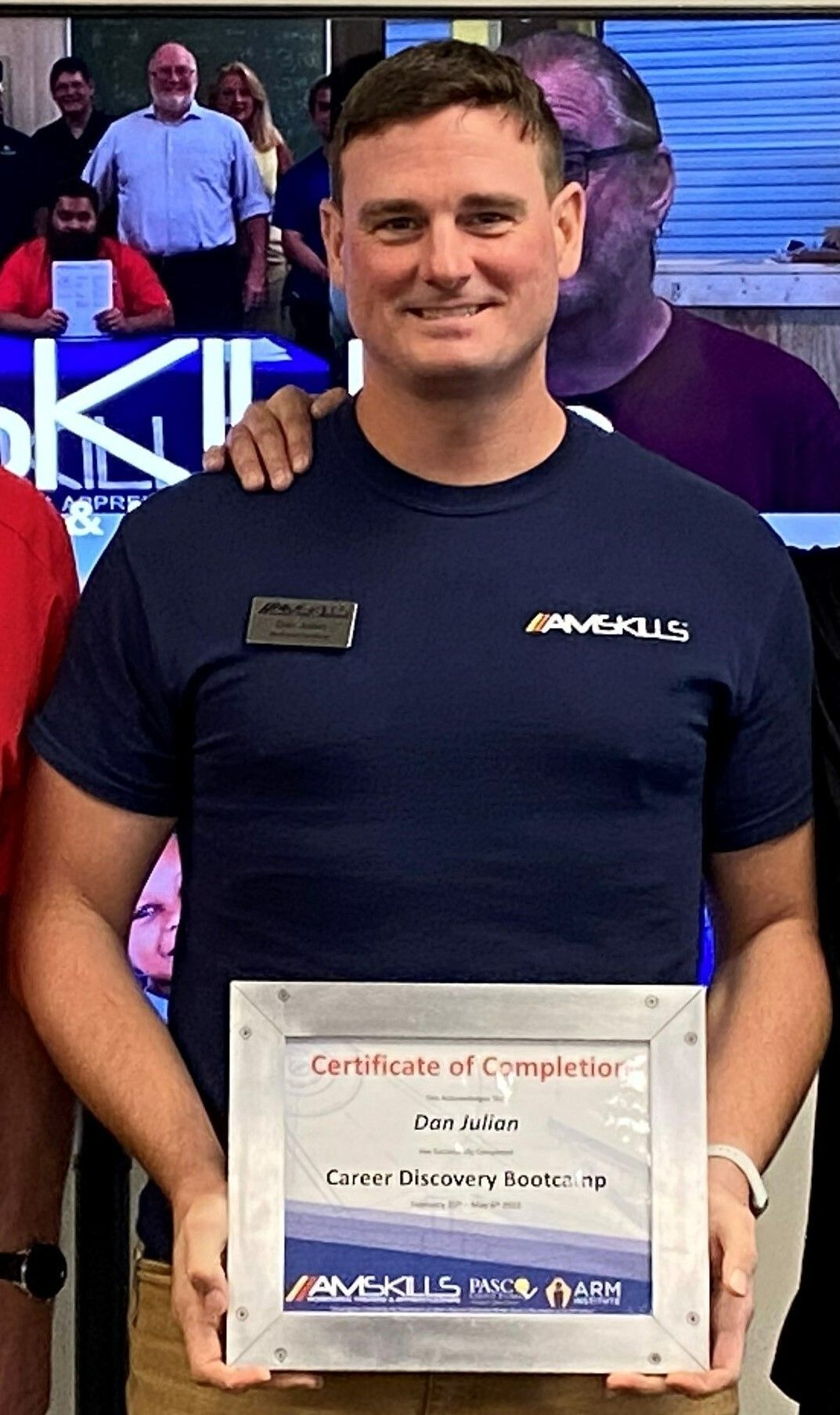 The road of life is different for us all, especially when it comes to achieving success with our personal and professional goals. For some it could look like a short straight line, while for others it could be more of a spaghetti maze, seemingly zigzagging all over the place. But what really matters is where you end up, and if the road is paved with the support of organizations like AmSkills, you'll be in great shape.
Such is the case with Dan Julian, a recent graduate from the AmSkills programs and now employed full-time with Pall Aerospace developing oxygen-generating systems for pilots and other aircraft personnel.
While born in San Diego where his dad was stationed at the time, Dan spent most of his childhood in the Midwest, in Southern Indiana and Michigan. With a keen interest in electronics and television, he entered the Air Force after high school and found himself based primarily in the mountains of Utah doing some fascinating post-production for military training videos including field combat and flightline.
It was back to Michigan after his service was over, where he married and started college, majoring in computer and electrical engineering. "But then life happened," said Dan. "Our family had grown by two children, so I postponed my education to become a stay-at-home dad." While that kept him out of the industry for most of 10 years, he certainly didn't regret the decision of putting family first, and ultimately went back to school and earned his degree.
Eager to get back into the workforce but with little success from college-based referrals, a friend mentioned AmSkills as a possible opportunity. Dan learned more about the program through Steps to Recovery where he was presented with specific dates of participation. "It was a no-brainer," he said. "The fact that you are guaranteed legitimate job interviews at the end of the program sounded too good to be true, but AmSkills delivered on that promise, and then some."
On day one of the AmSkills Career Discovery Bootcamp in Pasco County, Dan was immediately impressed with the level of real-world experience and knowledge possessed by the instructors. Recognizing Dan's previous experience and his desire to focus on training and leadership, they allowed him to work alongside and support some of his classmates who had less experience. "I'd been offered leadership positions in my past jobs, but turned them down because I didn't have leadership training and it wasn't offered to me," said Dan. "The fact that AmSkills' instructors recognized and addressed my specific needs is a testimony to their commitment to work with each student on a very personal level."
Dan was given the opportunity to interview with almost all the participating companies. "That created its own set of challenges: I knew I was going to have to turn down several job offers," said Dan, "but AmSkills helped me with that communication process, as well." A few manufacturers asked him to return for second and third interviews, with Dan committing to Pall Aerospace as his new place of employment.
Dan can't say enough positive things about AmSkills, and not just for folks with a life road like his. "Everyone graduates with a valuable set of skills and many of the tools to put them to good use. But AmSkills is also great for people who don't want to pursue the college route. And for those who still want to pursue their education, many employers now offer tuition reimbursement, making that option more affordable while bringing in a full-time salary," said Dan. "What AmSkills is doing is fantastic, and the instructors – many of whom are retired but just want to give back to the industry – are so passionate about their jobs because they see the need."
And Dan sees that need, as well, not only in the short-term but in the near future. "Whether due to Covid or other reasons, many engineers in the manufacturing industry have retired or are getting ready to leave the industry. Who is going to replace them? AmSkills' graduates, that's who!"